Smoked salmon cubes with fruit, and parsnip foam
Smoked salmon cubes with fruit, and parsnip foam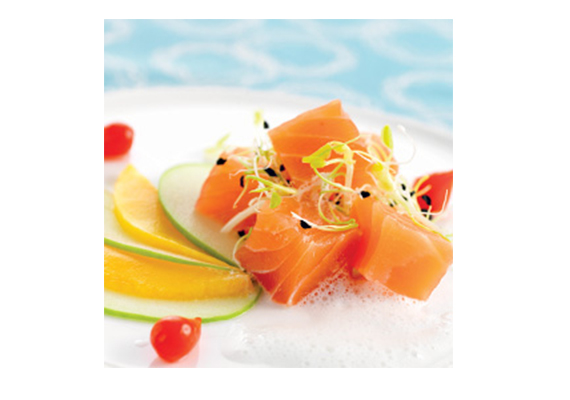 For 10 guests:
o 500 g of unsliced whole smoked salmon.
o 1 small parsnip.
o 10 cl of milk.
o 30 small pieces of bell pepper.
o 1 ripened mango.
o 1 Granny Smith apple.
o 1 tablespoon of leek sprouts.
o ½ pea sprouts tray.
o Cut the salmon into cubes of 1.5 / 1.5 cm aside.
o Peel parsnips and cook with water, then reduce the liquid puree with a bit of cooked water.
o Strain and add the milk, keep in a water bath.
o Cut the mango and apple into thin leaves. Plate up with harmony.
o Then whisk the parsnip cream, and add the foam before serving.
For more excellence in your recipe, you can use the salmon cooked over a wood fire (beech or oak), by far the best of our smoked salmon.